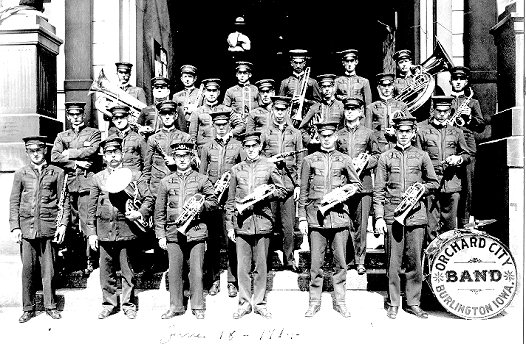 The Orchard City Band at the G.A.R. (Grand Army of the Republic) Convention, June 17-19, 1914

Bottom row: Sam Pill, clarinet; William Schafer, baritone; Frank Sherratt, director; John Weniger; cornet; Carl Peterson cornet; Leon Petitt, cornet.

Top row: W.F. Ellerhoff, bass; Ed Griesel, trombone; Clarence Smith, trombone; Clyde Sourwine, trombone; Horace Leidig, clarinet; Andy Koett, bass.

Photo courtesy of the Des Moines County Historical Society

Third row: Henry Griesel, clarinet; Sig Engberg, horn; Charles Vogelgesang, horn; Jim Weaver, horn; Al Rinker, horn; Ralph Zaiser, saxophone.

Second row: Carl Griesel, drum; John Miller, drum; George Vogt, piccolo; H. Hohl, clarinet; Guy Power, clarinet; Ward Vance, cornet; Walter Hohl, clarinet.