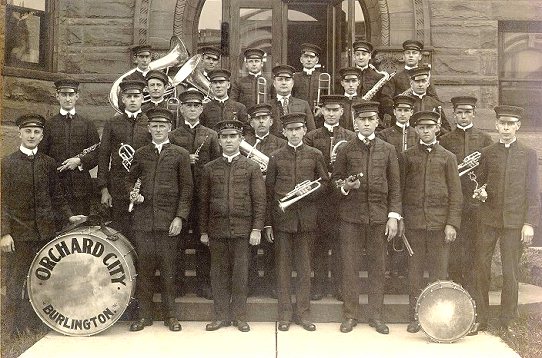 The Orchard City Band at the F.O.E. (Fraternal Order of Eagles)

State Convention held in Muscatine in 1916.

Bottom row: Fred Walz, Sam Pill, Frank Sherratt (director), John Weniger, Walter Hohl, John Miller, Guy Power (manager).

Photo courtesy of the Des Moines County Historical Society

Top row: Andy Koett, William Ellerhoff, Clarence Smith, Carl Griesel, John VanSteenwick, Ralph Zaiser.

Third row: Ed Griesel, Charles Vogelgesang, Henry Griesel, Ed Rinder, Carl Peterson.

Second row: Horace Leidig, George Vogt, William  Shaefer, Sig Engberg, Mayo Williams.