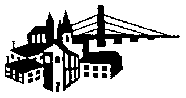 (Click on the individual photos to view a larger version of each one.)

For the Steamboat Days parade, our band rides on the back of a truck.  This year, due to a communications mix-up (NOT involving our band), we arrived downtown to find that no truck had been secured.  After asking several other entries if they could make room for us, John Roth agreed to let us ride on his antique fire truck, which was entered in the parade as a float to support Burlington's "Civic Music" program.

As you can see, we had no room to spare, but we all had a great time, thanks to John Roth and his marvelous truck!