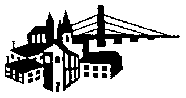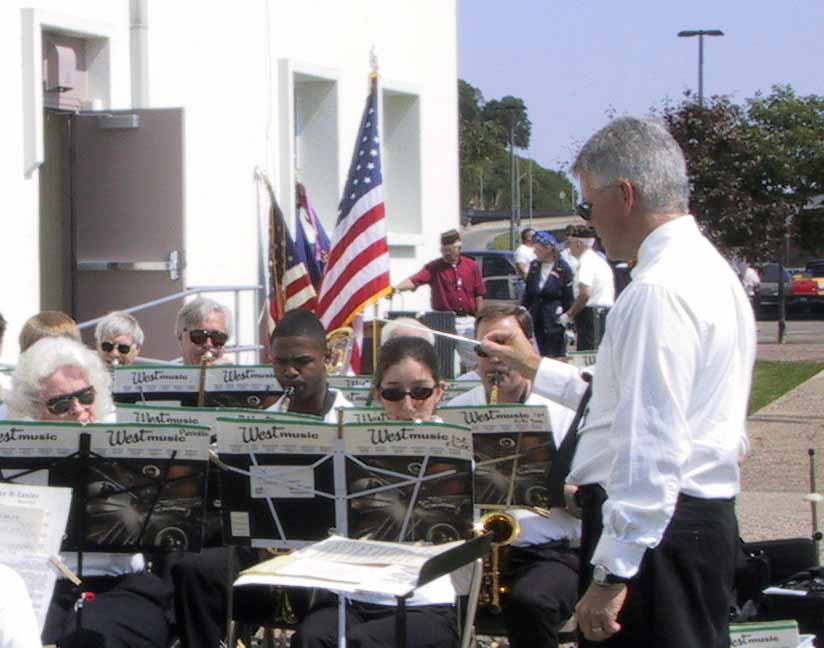 The Burlington Municipal Band "season" actually begins with the Memorial Day Service, last year once again held outside Memorial Auditorium.  (see photo at right, with Mark Eveleth conducting the band)

This Week's Concert

August 8, 2004


Note from the webmaster:  We update this web site at least once a week during our summer concert season.  Since the program for each Sunday concert is finalized at our rehearsal on Monday evening, we generally post the week's update sometime on Tuesday.  Unfortunately, if you are viewing this page on a summer Monday, what follows will undoubtedly be the information for YESTERDAY'S concert.

Our regular 7:30 P.M. concert will be conducted by several conductors:  clarinetist Mike Lachnitt, tubist Arnie Anderson, flutist Marcia Korb, hornist Tyler Ruberg and trombonist Jim Priebe.  Mike, whose intended July concert was rained out, will conduct South American Way by Jimmy McHugh; Rocky and Bullwinkle Strike Again by Fred Steiner, arranged by John Higgins; Chicago Tribune March by W.P. Chambers, arranged by Charles J. Roberts; Jersey Bounce by Bobby Plater, Tiny Bradshaw and Edward Johnson, arranged by Hal Leonard; El Caballero by J. Olivadoti; and Feuerfest! by Josef Strauss, arranged by Terry Vosbein.  Arnie will conduct Florentiner March by Julius Fucik, arranged by Mayhew L. Lake. Marcia will conduct Dry Bones, arranged by Paul Yoder.  Tyler will conduct Jurassic Park Soundtrack Highlights by John Williams, arranged by Paul Lavender.  Jim will conduct March of the Cute Little Woodsprites by  P.D.Q. Bach, "charmingly edited" by Peter Schickele (this selection is a recent gift from band supporter Marna Scott) and our traditional closing march, The Stars and Stripes Forever  by John Philip Sousa.

ClasSax saxophone players include Ted Francis, soprano and alto; Adam Creager, alto; Mike Lachnitt, tenor; Tianna Streeter, tenor; and Darwin Lyons, baritone.  The rhythm section will include Jay Hauenstein, keyboard; Gerry Runyon, bass; and Dave Scott, Drums.

This will be our final concert for the 2004 season and we thank you for the interest and support you have given us this summer.  Again this week we will feature a special concert at 6:15 P.M. prior to our regular 7:30 P.M. concert.  The featured group this week will be "ClasSax."  ClasSax is, as the name implies, a saxophone ensemble which includes keyboard, bass and drum accompaniment.  They perform a variety of musical styles which we believe you will find most enjoyable.

Their program will be selected from among the following selections:  Lo and Behold! by Lennie Niehaus, Red Letter Day by Lennie Niehaus, Billie Jean by Micheal Jackson, Caravan by Duke Ellington, Harlem Nocturne by Earl Hagen, Satin Doll by Duke Ellington, So Nice by Marcos & Paulo Valle, Autumn Leaves by Joseph Kosma, Poor Butterfly by Raymond Hubbell, Alley Cat by Frank Bjorn, Little Boy Lost by Michel Legrand, Chicago by Fred Fisher, Theme from "Ice Castles" by Marvin Hamlisch, and  What a Wonderful World by Bob Thiele.

Although August 8 is the band's final concert, five of the band's members can't quite give up on the idea of a Sunday concert in the park.  They are the members of the South Hill Brass.  As such, they plan to present a concert next Sunday, August 15th,  7:30 P.M.  at the band shell - in other words, the usual time and place.  We invite you to enjoy this "season extension" hope to see you there.

The South Hill Brass is made up of Libby Snipes on horn, Jim Priebe on trombone, Mark Eveleth and Tom Bell on trumpets, and Arnie Anderson on tuba.  If you'd like to learn more about the South Hill Brass we'd suggest that you visit their web site at
http://shb.homestead.com
. 
Warning!
If you are offended by a bit of silliness you would probably be better off spending your time doing something else!