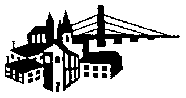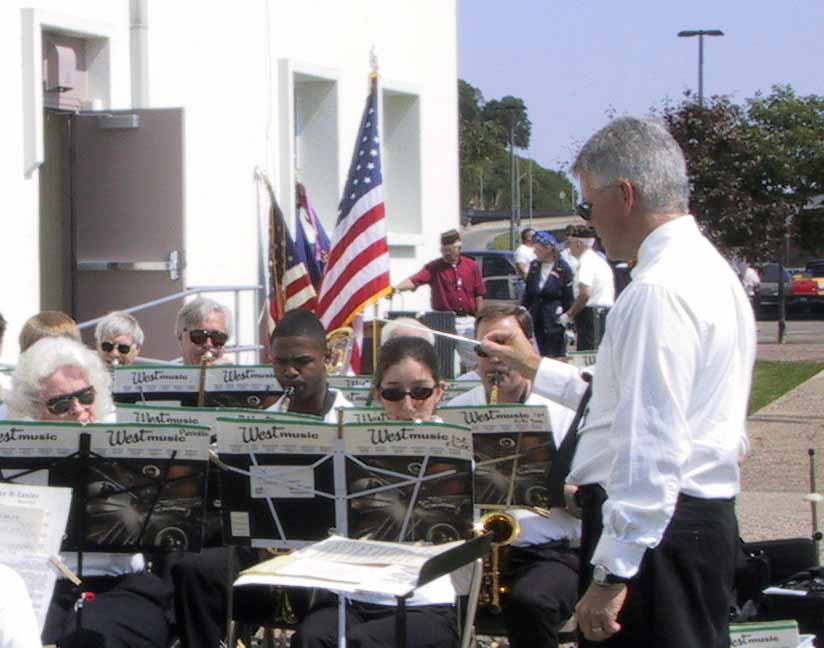 The Burlington Municipal Band "season" actually begins with the Memorial Day Service, in 2003 once again held outside Memorial Auditorium.  (see photo at right, with Mark Eveleth conducting the band)

This Week's Concert

August 5, 2007


Note from the webmaster:  We update this web site at least once a week during our summer concert season.  Since the program for each Sunday concert is finalized at our rehearsal on Monday evening, we generally post the week's update sometime on Tuesday.  Unfortunately, if you are viewing this page on a summer Monday, what follows will undoubtedly be the information for YESTERDAY'S concert.


For those specifically SEEKING web pages from past concerts, our recent concert archives are now available online.
Our conductor this week is retired Burlington band director Jim Priebe.  When not conducting, Jim plays trombone in the band and in many other area organizations as well, including the Southeast Iowa Symphony, Southeast Iowa Brass Quintet, Southeast Iowa Trombone Quintet, South Hill Brass, Bullis/Rutter Big Band and other area jazz groups.  (Webmaster's note: Jim also writes most of the text for this web site.)

Jim's program features selections which represent a variety of styles and moods and includes several pieces new to the band. The program will be chosen from among the following: Crosley March by Henry Fillmore; the overture Cloudsplitter by Carl Strommen; Harry's Wonderful World by John Williams arranged by Jerry Brubaker, featuring music from the motion picture "Harry Potter and the Chamber of Secrets;" a medley which evokes the era, The Homefront: Musical Memories from World War II, arranged by James Christensen, including It's Been a Long, Long Time, Thanks for the Memories, Bell Bottom Trousers, The White Cliffs of Dover, I'll Be Seeing You, Don't Sit Under the Apple Tree, and Praise the Lord and Pass the Ammunition; A Childhood Hymn by David Holsinger; A Tribute to Benny Goodman arranged by Richard Hayman, including Pushin' Sand, Airmail Special, A Smooth One, Flyin' Home, and Slipped Disc; a fiery "paso doble," Lola Flores by Alfred Sadel and Terig Tucci, arranged by John Krance; the theme music for IPTV's coverage of the Iowa State Fair, How the West Was Won from the motion picture of the same name, arranged by Robert Hawkins; Themes Like Old Times III arranged by Warren Barker, including Ma, He's Making Eyes at Me, Ain't We Got Fun, On Moonlight Bay, and After You've Gone; the stately English march which became the theme of the motion picture "Bridge on the River Kwai,"  Colonel Bogey by Kenneth J. Alford; and our traditional closing march, The Stars and Stripes Forever by John Philip Sousa.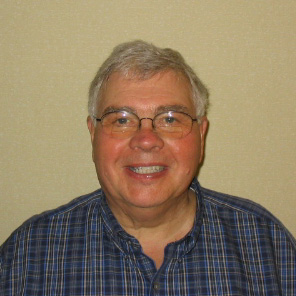 Links which may be of interest to members of our audience:

Henry Fillmore, composer of Crosley March

Powell Crosley, the man to whom Fillmore's march was dedicated

The music of World War II

Benny Goodman

http://www.pbs.org/jazz/biography/artist_id_goodman_benny.htm
The Iowa State Fair

http://www.iowastatefair.com/
A Childhood Hymn was purchased with funds contributed by several members of Burlington's Grace Methodist Church who regularly attend our concerts.  We thank them for their support!

Several pieces are being performed for the first time by the band at this concert and we would like to express our appreciation to those who have contributed to the band for their purchase.

Cloudsplitter is among several pieces purchased with funds from the Burlington Fine Arts League, an organization whose financial support we gratefully acknowledge.

The Homefront: Musical Memories from World War II was purchased with funds donated by band member Dave Scott's mother Marna.  Thank you Marna!