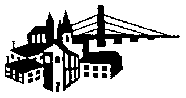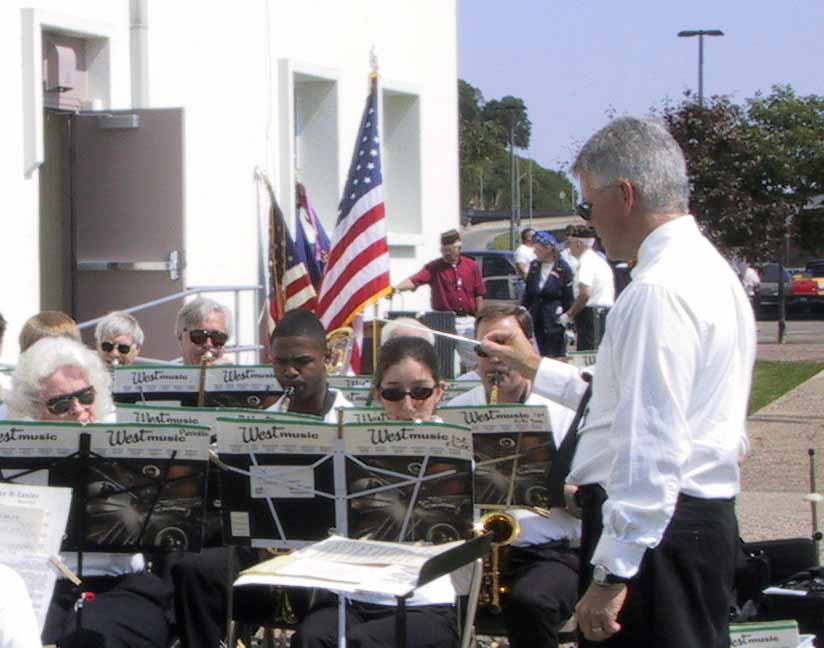 The Burlington Municipal Band "season" actually begins with the Memorial Day Service, last year once again held outside Memorial Auditorium.  (see photo at right, with Mark Eveleth conducting the band)

Our June 27 concert will be conducted by Ron Coberley, long time band director of the New London, Iowa high school band.  Ron can normally be found in the trumpet section of our band but, when the need arises, he sometimes substitutes in the French horn section.

This Week's Concert

June 27, 2004


As regular readers of our concert updates know, our conductors often choose the program to be performed based on a "theme."  (Sometimes we accuse them of inventing a theme to fit the selections they have chosen!)  Ron has chosen an interesting unifying theme for this week's concert: "dreams and fantasies."

Note from the webmaster:  We update this web site at least once a week during our summer concert season.  Since the program for each Sunday concert is finalized at our rehearsal on Monday evening, we generally post the week's update sometime on Tuesday.  Unfortunately, if you are viewing this page on a summer Monday, what follows will undoubtedly be the information for YESTERDAY'S concert.

The concert will include the following selections:  Fantasy for Band by Frank Erickson; Ballade by Darren W. Jenkins; Barnum and Bailey's Favorite March by Karl King; Star Wars Medley by John Williams, arranged by James H. Burden; Anything Goes by Cole Porter, arranged by Paul Jennings (as arranged for the motion picture "Indiana Jones and The Temple of Doom"); The Phantom of the Opera Medley by Andrew Lloyd Webber, arranged by Jonnie Vinson including The Phantom of the Opera, All I Ask of You, Think of Me, Angel of Music and The Music of the Night; Themes from Scheherazade by Nicolai Rimsky-Korsakov, arranged by Clair W. Johnson; The Gallant Men (from the 1960's television show of the same name) by John Cacavas;  Fantasy on "How Brightly Shines the Morning Star" based on "Wie Schon Leuchtet," a hymn tune written in the 16th century by Philipp Nicolai; Selections from "Cats" by Andrew Lloyd Webber, arranged by John Edmondson; and our traditional closing march, The Stars and Stripes Forever  by John Philip Sousa.

Looking ahead to the following week:  Beginning in 2001, and again in 2002, our summer concerts conducted by Jim Priebe featured "Flag Parades" -- the audience was invited to bring American Flags to the concert, and during the concert were invited to participate in a "Flag Parade."  We did not have a Flag Parade in 2003, but THIS year Jim Priebe's concert falls ON the Fourth of July ... so plan on bringing a flag to our special Fourth of July concert!