The Burlington Municipal Band plays a one hour concert each week during the summer.  Most of our concerts take place at the band shell in beautiful Crapo Park, overlooking the Mississippi River.  While the band concerts begin at 7:30 PM, there is sometimes other entertainment preceding the concert, and families are encouraged to come early to enjoy the fine summer evening in the park.


Burlington, Iowa

Quality of Life

Burlington Municipal Band


Occasionally inclement weather forces the cancellation of our concerts.  News of concert cancellations is broadcast on a number of local radio stations.  Concert cancellations will also be posted here on this web site.  Is the concert likely to be rained out?  Check weather radar
here
.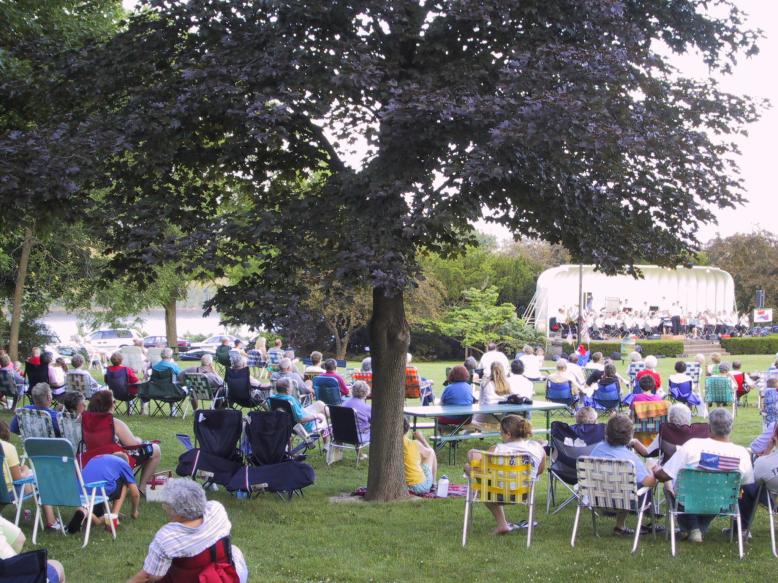 Each year, the band has openings for a few musicians. If you are interested in becoming a member of the Burlington Municipal Band, contact Mark Eveleth by telephone at (319) 753-6900 or by e-mail at evelethm@mchsi.com.

The Burlington (Iowa) Municipal Band is a community concert band which has served and enriched the life of this city for seventy-five years. The band's first concert was presented in Crapo Park in May of 1927 after the citizens of Burlington had expressed the desire that such a band be formed. The band's roots extend back to the nineteenth century since it was formed through the combining of the existing Orchard City Band and the privately operated Fischer's Band under the leadership of J. Henri Fischer, a prominent musician of the era.

The band today enjoys a membership from a wide variety of backgrounds. The band contains homemakers, physicians, music teachers, business men and women, ministers, retired people, college students, and a few outstanding high school musicians. All share the common enjoyment of playing their instruments and providing the community with a wholesome family activity.

With continued support from the City of Burlington, the Municipal Band continues to perform free Sunday evening concerts in Crapo Park during the summer months. These concerts are presented from 7:30 until 8:30 P.M. at the Crapo Park Bandshell, located on Grandview Drive within the park. This site provides concert goers a magnificent view of the Mississippi River and the Illinois farmlands spread below, and a wide lawn where listeners can choose to sit on park benches provided near the bandshell, or bring their own lawn chairs or blankets, perhaps to sit near the illuminated Foehlinger Fountain. The concerts are well attended by people of all ages, and many visitors to Burlington make it a point to return each summer to hear at least one concert.


This website is now maintained by members of the Burlington Municipal Band.

We thank the staff at the Burlington Public Library for the original site design.

Questions and/or comments can be directed to -- webmaster@muniband.org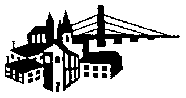 This web site is also available in a
LARGE PRINT
version.
We hope that you will take the opportunity to support live music provided by many musical organizations in the Burlington Area during the fall, winter and spring months.  Members of the Municipal Band participate in or direct many of these groups, and we would love to see you.  These groups include the school bands, orchestras and choirs in Burlington and surrounding communities as well as the Southeast Iowa Symphony, Southeast Iowa Band, Bel Canto Chorale, South Hill Brass, Southeast Iowa Brass Quintet, and the Southeast Iowa Woodwind Quintet. You may often find band members directing or participating in the pit bands of the Players Workshop and/or area school musical productions as well.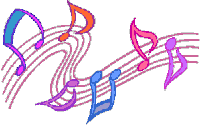 Note from the webmaster:  We update this web site at least once a week during our summer concert season.  Since the program for each Sunday concert is finalized at our rehearsal on Monday evening, we generally post the week's update sometime on Tuesday.  Unfortunately, if you are viewing this page on a summer Monday, what follows will undoubtedly be the information for YESTERDAY'S concert.



Regular visitors to this web site are aware that we are constantly looking for historical photographs and information relating to the early days of the Burlington Municipal Band  and it's antecedents, the Orchard City Band and the Fischer Band.  We sometimes wonder whether our efforts to chronicle the historical background of our band are reaching our intended audience.  We were therefore gratified to receive a telephone call and follow up letter from Rosalie A. Hahn of Leavenworth, Kansas who had viewed this site's
history page
and who most graciously sent us the accompanying photograph and information about her husband's grandfather who had been a prominent member of the Fischer Band.  (If you have viewed the photos elsewhere on this site you know that we previously had no information whatsoever concerning the names of the Fischer Band members.)
Mrs. Hahn tells us that Peter Hahn moved from Leavenworth, Kansas to Burlington to help start the Fischer Band.  It seems likely that he may have been related to J. Henri Fischer, since Mrs. Hahn's husband's great grandmother's maiden name was Fischer.  In our history page's
photo of the Fischer Band
, we believe that Peter Hahn is the cornet player third from the right side in the front row.
We thank Mrs. Hahn for her information and her interest in the Burlington Municipal Band and we hope that she can visit us at one of our summer concerts in the near future.

If others have similar information of interest and/or photographs which concern the band's past, we encourage them to contact us.

Mrs. Hahn included a copy of a newspaper account of Peter Hahn's death which occurred March 14, 1911.  Because this article documents his membership in the Fischer Band and does so in a manner which vividly invokes the era, we will include the entire text:

Peter Hahn Dead

Well Known Musician Succumbed After Brief Illness

Death Follows That of One of His Children Who Passed Away Last Week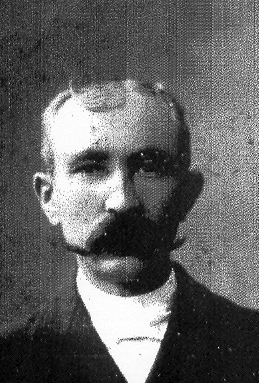 Peter Hahn of 516 South Fourth Street passed this morning at St. Francis Hospital.  He was stricken with an attack of apoplexy last Sunday.  Last evening the second stroke followed and from this visitation he did not rally.  He had been in poor health for several years, but the end was not supposed to be so near.  The death of  Mr. Hahn is exceptionally sad, as only last week one of his children passed away, and it is supposed the shock of the little one's death may have hastened the passing of the father.

Mr. Hahn was born in Germany 49 years ago and came to his city about fourteen years ago, securing employment at the Northwestern Cabinet Co. as finisher.  He was one of the most trusted employees of the concern and was well liked by his fellow employees and employers.  He was perhaps better known as a member of Fischer's band and orchestra, joining these organizations when he arrived in the city.  He was an excellent cornetist and was one of the factors in assisting Prof. Fischer build up his musical organizations to their present state of efficiency.  He gained a large share of musical experience while a member of a regimental band in the United States regular army.  Previous to coming to Burlington he visited many of the out of the way parts of the world, Australia, South Africa, etc., and had met with many queer experiences.

He is survived by his widow and six little children, who have the warm sympathy of scores of friends.   He was a good husband and father and will be sadly missed by his family.

Mr. Hahn was a member of the N.P.L. and the arrangements for the funeral will be announced later.

See our special section on Peter Hahn of "Fischer's Band."



Our 2003 summer concert season is well under way.  Our season began with a performance at the Memorial Day Service, and will continue through mid-August, with our next concert in Crapo Park on July 27.







Click
here
for this week's concert.
This Week's Concert

July 27, 2003

Our conductor this week is long time band member Marcia Korb.  Marcia is the band director at Oak Street Middle School in Burlington, and regularly plays flute in the band.  Marcia has picked a program which emphasizes the music of Broadway and Hollywood.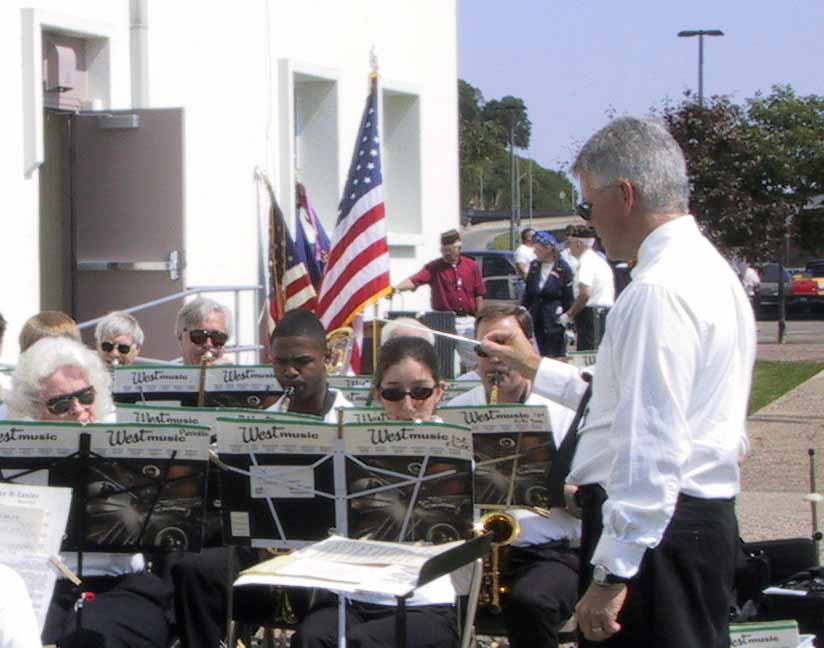 As mentioned earlier, the Burlington Municipal Band "season" actually begins wth the Memorial Day Service, this year once again held outside Memorial Auditorium.  (see photo at right, with Mark Eveleth conducting the band)

We wish to acknowledge with gratitude a memorial gift in memory of Marian Kreckel, who was a loyal supporter of the band for many years.  This gift will be used to purchase new music for our concerts.   Special thanks too, to the Hy-Vee on Agency for their donation to the band and to Advanced Data Products for donating the photocopies of the concert order instructions for the July 13 concert.

Should you wish to make a memorial gift or a donation to the band, be assured that it will be gratefully received.  Contact Sue Kristensen at 319-752-5764, Jim Priebe at 319-752-7305, or Mark Eveleth at 319-753-6900.

The band has been told that, because of the economic difficulties faced by the city, our regular funding from the City of Burlington has been discontinued for the new fiscal year which begins July 1.  The city continues to support us in many ways including housing our music library, providing rehearsal space at Memorial Auditorium and maintaining the band shell in Crapo Park.

We are grateful to The Henry and Elsie Starker Memorial Trust for sponsoring the remainder of this season, and to City Manager Bruce Slagle for his efforts in securing this support for us.  We hope that readers of this web page will take a moment to contact city leaders to express their thanks as well.


The concert's selections will be chosen from among the following:  Flourish for Wind Band by Ralph Vaughn Williams; How the West Was Won from the MGM film of the same name, including The title song, A Home in the Meadow, I'm Bound for the Promised Land, No Goodbye, On the Banks of the Sacramento, When Johnny Comes Marching Home, and Battle Hymn of the Republic, all composed and/or arranged by Ken Darby and Alfred Newman; A Fifties Time Capsule, including Catch a Falling Star; Hooray for Captain Spaulding (the theme of the Groucho Marx show), Jailhouse Rock, Rock Around the Clock, Beep Beep, Who Put the Bomp (in the bomp ba bomp ba bomp), Will You Love Me Tomorrow?, The Swingin' Shepherd Blues, High Hopes, Love and Marriage, and Why do Fools Fall in Love;  Hands Across the Sea March by John Phillip Sousa, arranged by Brion and Schissel; Recorded by Sinatra including High Hopes, Young at Heart, Love is the Tender Trap, Love and Marriage, and My Kind of Town; A Chorus Line including I hope I Get It and What I Did for Love; Here's that Rainy Day by Johnny Burke and Jimmy Van Heusen arranged by Bob Lowden (Marcia is really tempting fate to program this one); A Tribute to Henry Mancini including The Pink Panther, Charade, and Peter Gunn, arranged by Mike Story; Man of La Mancha, including Little Bird, Little Bird, Man of La Mancha, and The Impossible Dream; The Theme from Lawrence of Arabia by Maurice Jarre, arranged by Alfred Reed, Selections from CHICAGO including We Both Reached for the Gun, Cell Block Tango, Roxie and And All That Jazz, by John Kander, arranged by Ted Ricketts; and our traditional closing number, The Stars and Stripes Forever by John Phillip Sousa.

Special thanks to band supporter Marna Scott who donated the funds to purchase the CHICAGO arrangement.  This is the music from the Oscar winning movie, and we look forward to playing it!

We hope that you will come early to enjoy the jazz group and stay for the concert to follow.

Music performed will be chosen from among the following selections:  Moonlight Serenade by Glenn Miller; Moten Swing by Buster and Bennie Moten, arranged by Sammy Nestico; Just a Gigolo/I Ain't Got Nobody arranged by Roger Holmes; Summertime by George Gershwin, arranged by Peter Blair; Woodchoppers Ball by Woody Herman, arranged by Peter Blair; Watch What Happens by Michel LeGrand, arranged by Peter Blair; A Night in Tunisia by Dizzy Gillespie, arranged by Peter Blair; Almost Like Being in Love, arranged by Dave Wolpe; Tiger of San Pedro by John La Barbera, arranged by Paul Lavender; and Basically Blues by Phil Wilson.

Each summer, the band's jazz oriented members form a big band to present a "pre-concert" jazz concert and this is the week for that event.  The jazz portion will begin at 6:30 P.M. and last until approximately 7:15 P.M.  The jazz concert will, of course, be followed by the regular 7:30 P.M band concert.  The jazz band will feature big band hits from the 40's to contemporary.