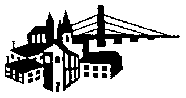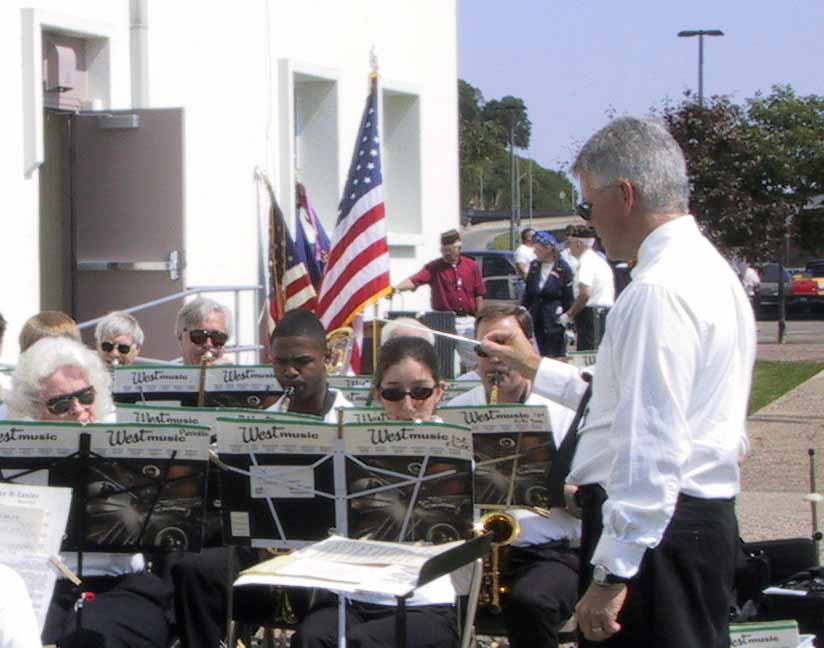 The Burlington Municipal Band "season" actually begins with the Memorial Day Service, in 2003 once again held outside Memorial Auditorium.  (see photo at right, with Mark Eveleth conducting the band)

This Week's Concert

June 26, 2005


Note from the webmaster:  We update this web site at least once a week during our summer concert season.  Since the program for each Sunday concert is finalized at our rehearsal on Monday evening, we generally post the week's update sometime on Tuesday.  Unfortunately, if you are viewing this page on a summer Monday, what follows will undoubtedly be the information for YESTERDAY'S concert.

Ron's selections include The Calypso Man by Belle Fenstock, arranged by John Cacavas; Highlights from West Side Story by Leonard Bernstein, arranged by Ted Ingram including I Feel Pretty, Maria, and Tonight; Bolero from the symphonic suite "Verdiana" by Giuseppe Verdi, arranged by Camarata and transcribed for band by Alfred Reed; Serenade for a Picket Fence by Norman Leyden featuring xylophone soloist Katie Lorber; One from the musical "A Chorus Line" by Marvin Hamlisch, arranged by Bill Moffit; Your Mama Don't Dance by Kenny Loggins and Jim Messina, arranged by Doug Adams; Twist and Shout by Bert Russell and Phil Medley, arranged by Doug Adams; Bandstand Boogie by C. Albertine, arranged by Bob Lowden; Glenn Miller in Concert arranged by Wayne Scott including At Last, Chattanooga Choo Choo, Moonlight Serenade, Pennsylvania 6-5000, and Little Brown Jug; Selections from Flashdance including Flashdance, What a Feeling, He's a Dream, Maniac, and Lady, Lady, Lady; Lament and Tribal Dances by Michael Sweeney; and our traditional closing march, The Stars and Stripes Forever by John Philip Sousa.

The conductor for the June 26th concert will be long time New London band director Ron Coberley.  Regular concert-goers are getting very well acquainted with Ron - he was featured as trumpet soloist and narrator on last week's concert.  Our conductors often choose concert music based on an underlying theme.  Ron has chosen music related to the dance and his selections are quite varied, drawing from the genres of Broadway,  rock 'n roll, pop, big band jazz, calypso, classical, and even tribal music!

Ron has invited Katie Lorber, a 2005 graduate of his New London High School Band and an outstanding percussionist to be our xylophone soloist.  Katie was Drum Major of the NLHS Marching Band and the recipient of the John Philip Sousa Award.