This Week's Concert

Sunday, July 23, 2023


Note from the webmaster:  We update this web site at least once a week during our summer concert season.  Since the program for each Sunday concert is finalized at our rehearsal on Monday evening, we generally post the week's update sometime on Tuesday.  Unfortunately, if you are viewing this page on a summer Monday, what follows will undoubtedly be the information for YESTERDAY'S concert.


For those specifically SEEKING web pages from past concerts, our recent concert archives are now available online.

Enhancing the quality of life

in Burlington and Southeast Iowa

since 1927

Long-time band member Mike Lachnitt will be our conductor this week.  When not conducting, Mike can be found in our clarinet section.  Mike also directs a familiar Burlington institution, "Herbie's Little German Band," a group that was founded by Mike's father Herbie Lachnitt who also played the clarinet in our band back in the day.  In fact the Muni Band is really something of a family tradition for the Lachnitts in that Mike's son Gerhardt and daughter-in-law Carmen both play in the band as well!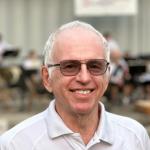 Links which may be of interest to members of our audience:

Mike's program will especially appeal to audience members of long duration as he has selected some great band "chestnuts" that have stood the test of time!  Mike says that his concert "theme" is "Making a Living."  Just how each piece on his program will fit his theme is open to conjecture but we have no doubt that all will be made clear!  Mike's selections include The Crosley March by Henry Fillmore; The Peanut Vendor by Moises Simons arranged by John Morrissey; Light Cavalry Overture by Franz von Suppe arranged by Henry Fillmore; Selections from My Fair Lady by Lerner and Loewe arranged by Robert Russell Bennett including With a Little Bit of Luck, On the Street Where You Live, Wouldn't it be Loverly, I'm Getting Married in the Morning, I've Grown Accustomed to Her Face, and I Could Have Danced All Night; Barnum and Bailey's Favorite March by Karl King; Sophisticated Ladies, a medley of Duke Ellington tunes arranged by John Edmondson including Don't Get Around Much Anymore, Mood Indigo, Caravan, and Sophisticated Lady; Chicago Tribune March by W. Paris Chambers edited by Marc Oliver; Gaucho Carnival by Helmut Zacharias arranged by Floyd E. Werle; Wabash Cannonball by William Kindt arranged by Mike Story; and our traditional closing march, The Stars and Stripes Forever by John Philip Sousa.

Next week's concert

will be conducted by Janel Horn