This Week's Concert

Sunday, June 23, 2019


Note from the webmaster:  We update this web site at least once a week during our summer concert season.  Since the program for each Sunday concert is finalized at our rehearsal on Monday evening, we generally post the week's update sometime on Tuesday.  Unfortunately, if you are viewing this page on a summer Monday, what follows will undoubtedly be the information for YESTERDAY'S concert.


For those specifically SEEKING web pages from past concerts, our recent concert archives are now available online.

Enhancing the quality of life

in Burlington and Southeast Iowa

since 1927

Links which may be of interest to members of our audience:

This will be our fourth concert of the season.  While it will be the first concert to take place during the "official" summer which begins on June 21, it means that our season is already forty percent complete.  During the long months of winter we seem to anticipate the summer concerts forever – and then they fly by in a flash!  If there is a moral it must be that you should get to the park for our concerts because they'll soon be a fond memory.

Although he conducted one number last season on the Round Robin concert our conductor this week will be conducting his first complete concert.  Jacob Yochum is no stranger to a podium, however, as he is the conductor of Burlington's Bel Canto Chorale.  A multitalented person, Jacob plays the saxophone in our band and, as his position as conductor of the Chorale would imply, he is a fine vocalist as well.  But music is just one facet of Jacob's life.  He has been serving as the principal of the Great River Christian School but he is answering the call to ministry and will soon be the new pastor of the Danville United Methodist Church.  We are delighted to welcome Jacob to the Muni Band podium!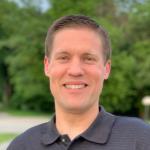 The music that Jacob has chosen for the concert is varied and should have interest for everyone!  His selections include A Festival Prelude by Alfred Reed; Irish Tune from County Derry by Percy Grainger; The Pathfinder of Panama by John Philip Sousa; Chili Sauce Rag by H.A. Fischler arranged by F.H. Losey and edited by John Bentley; Selections from Walt Disney's Mary Poppins by Richard M. Sherman and Robert B. Sherman arranged by Irwin Kostal and edited by Alfred Reed including Feed The Birds, A Spoonful of Sugar, I Love to Laugh, Sand Dance, Jolly 'Oliday, Step in Time, Supercalifragilisticexpialidocious, Let's Go Fly a Kite, and The Derby; Paint your Wagon by Frederick Loewe arranged by John Cacavas including Wandrin' Star, I'm On My Way, I Talk to the Trees, and They Call the Wind Maria; The Homefront: Musical Memories from World War II arranged by James Christensen including It's Been a Long, Long Time, Thanks for the Memory, Bell Bottom Trousers, There'll Be Bluebirds Over the White Cliffs of Dover, I'll Be Seeing You, Don't Sit Under the Apple Tree, and Praise the Lord and Pass the Ammunition; Aces of the Air by Karl King arranged by James Swearingen; and our traditional closing march, The Stars and Stripes Forever by John Philip Sousa.

Next week's concert

will be conducted by Ted Francis