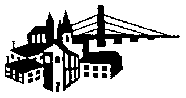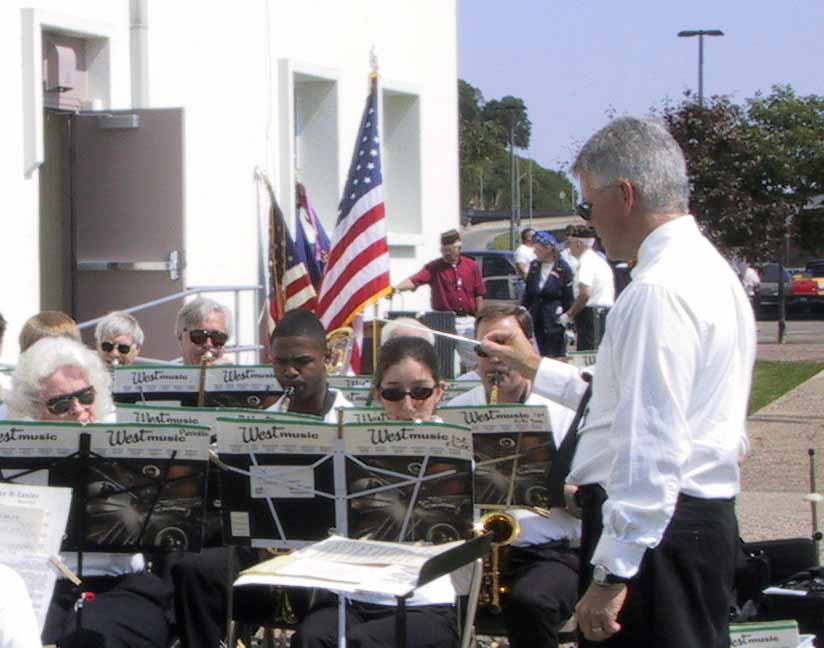 The Burlington Municipal Band "season" actually begins with the Memorial Day Service, in 2003 once again held outside Memorial Auditorium.  (see photo at right, with Mark Eveleth conducting the band)

This Week's Concert

June 19, 2005


Note from the webmaster:  We update this web site at least once a week during our summer concert season.  Since the program for each Sunday concert is finalized at our rehearsal on Monday evening, we generally post the week's update sometime on Tuesday.  Unfortunately, if you are viewing this page on a summer Monday, what follows will undoubtedly be the information for YESTERDAY'S concert.

The concert selections will include: A Lincoln Address by Vincent Persichetti with narration by Ron Coberley; Semper Fidelis March by John Philip Sousa arranged by Keith Brion and Loras Schissel; A Trumpeter's Lullaby by Leroy Anderson, arranged by Philip J. Lang, featuring Ron Coberley as trumpet soloist; Blue Tango, also by Leroy Anderson; Over the Rainbow from "The Wizard of Oz" by Harold Arlen, arranged by Warren Barker; Sounds of Simon and Garfunkel by Paul Simon, arranged by James H. Burden, including The sound of Silence, Mrs. Robinson; Scarborough Fair/Canticle, Feelin' Groovy, and Bridge Over Troubled Water; A Fifties Time Capsule arranged by Paul Jennings, including Catch a Falling Star, Hooray for Captain Spaulding (Groucho Marx theme), Jailhouse Rock, Rock Around the Clock, Beep Beep, Who Put the Bomp (in the Bomp Ba Bomp Ba Bomp), Will You Love Me Tomorrow?, The Swingin' Shepherd Blues, High Hopes, Love and Marriage, and Why Do Fools Fall in Love?; Big Band Signatures arranged by John Higgins, including Let's Dance (Benny Goodman), Leap Frog (Les Brown), Woodchopper's Ball (Woody Herman), The Peanut Vendor (Stan Kenton), April in Paris (Count Basie), Caravan (Duke Ellington), and In the Mood (Glenn Miller); The Lawrence Welk "ending" song; and our traditional closing march,, The Stars and Stripes Forever by John Philip Sousa.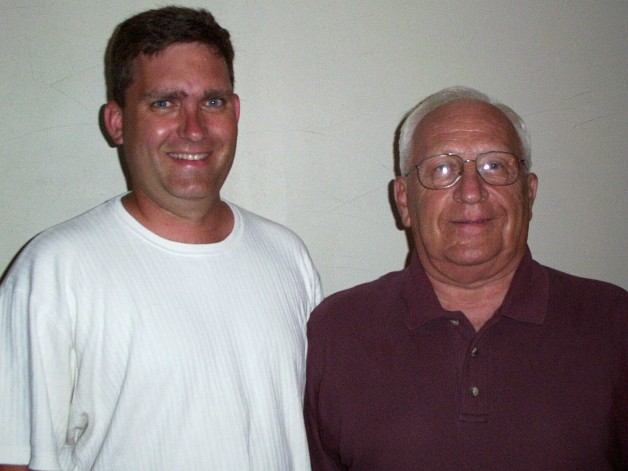 The June 19th Father's Day concert will be conducted by Arnie Anderson, the director of the Elementary and Junior High bands in New London.  Arnie has chosen an eclectic mix of selections which, he assures us, are all connected in some way to the Father's Day theme.  The featured trumpet soloist will be long time New London High School director Ron Coberley.