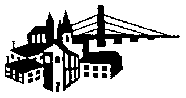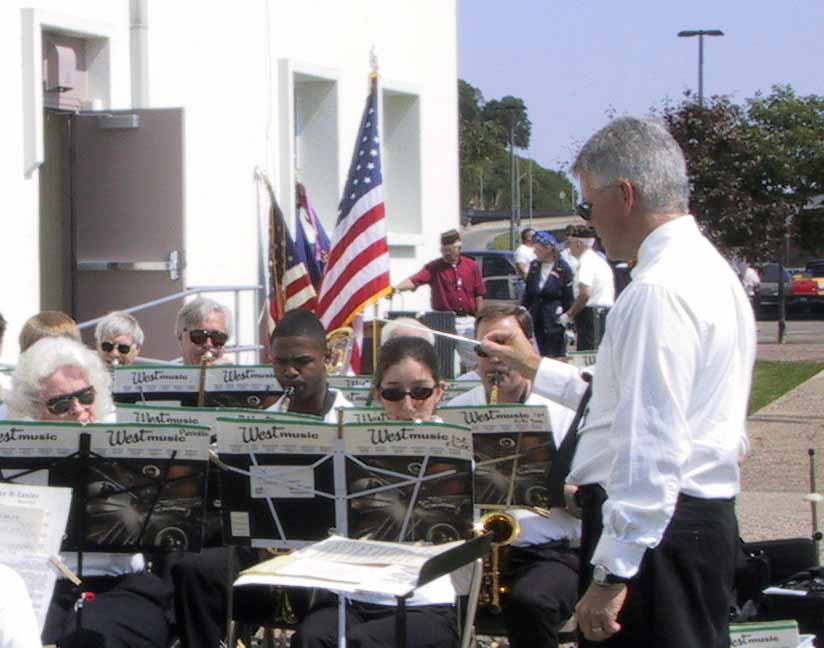 The Burlington Municipal Band "season" actually begins with the Memorial Day Service, last year once again held outside Memorial Auditorium.  (see photo at right, with Mark Eveleth conducting the band)

The conductor for our July 18 concert will be Arnie Anderson.  Arnie directs the New London, Iowa Junior High band program, and regularly plays tuba with our band and elsewhere, including with the South Hill Brass.  For this concert, Arnie has chosen the theme of "faith".

This Week's Concert

July 18, 2004


The concert will feature soloist Victoria (Tori) Simkins, daughter of Dennis and Tricia Meinen of New London.  Tori will be an eighth grader at New London Middle School this fall.  She has played the alto saxophone for three years.  She has received several Division I+ ratings at the Southeast Iowa Bandmasters Association's (SEIBA) Solo and Small Ensemble Contests and received the "Outstanding Soloist Award" in 2003.  Tori has been accepted to the Mount Pleasant Middle School Honor Band, Saint Ambrose Honor Band, and the Five Seasons Honor Band and was an alternate to the SEIBA Honor Band in 2004.  She routinely solos around the New London area for special school events.  Tori has studied with Arnie Anderson, Ron Coberley, and most recently with Ted Francis.  She will be performing Morning Serenade by Larry Neeck.

Note from the webmaster:  We update this web site at least once a week during our summer concert season.  Since the program for each Sunday concert is finalized at our rehearsal on Monday evening, we generally post the week's update sometime on Tuesday.  Unfortunately, if you are viewing this page on a summer Monday, what follows will undoubtedly be the information for YESTERDAY'S concert.

The rest of the concert will include The Invincible Eagle March by John Philip Sousa;  Hedwig's Theme (from the Harry Potter movie) by John Williams, arranged by Victor Lopez;  Hymnsong Variants by Robert W. Smith;  The Movie Annie A Symphonic Panorama by Charles Strouse, arranged by John Higgins;  Simple Gifts and Morning Has Broken, both arranged by James D. Ployhar;  On a Hymnsong of Philip Bliss by David R. Holsinger;  Music from "O Brother, Where Art Thou?" arranged by Michael Brown, and including Keep On The Sunny Side, I Am A Man Of Constant Sorrow, Down To The River To Pray, and I'll Fly Away;  When You Wish Upon A Star by Leigh Harline, arranged by Sammy Nestico;  and  our traditional closing march, The Stars and Stripes Forever  by John Philip Sousa.