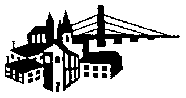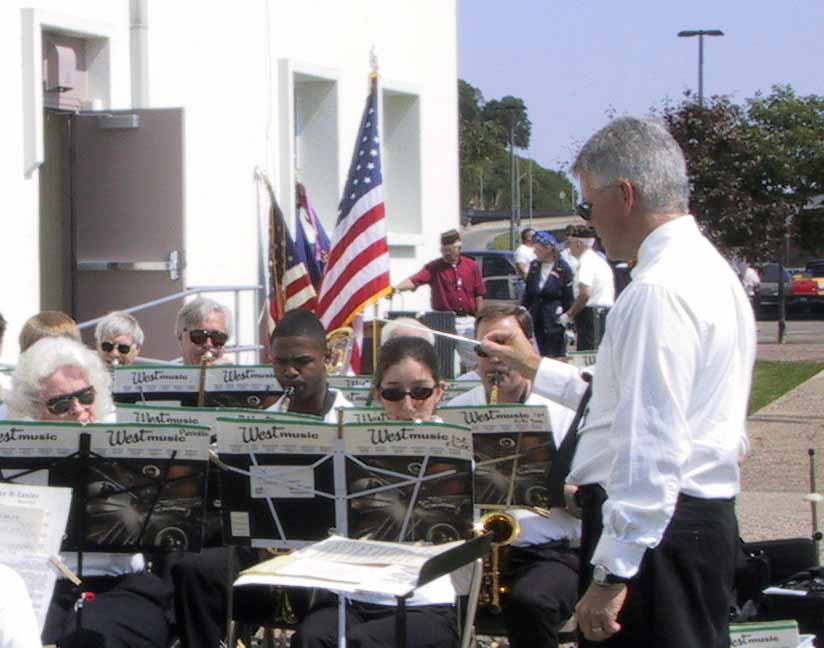 The Burlington Municipal Band "season" actually begins with the Memorial Day Service, in 2003 once again held outside Memorial Auditorium.  (see photo at right, with Mark Eveleth conducting the band)

This Week's Concert

July 17, 2005


Note from the webmaster:  We update this web site at least once a week during our summer concert season.  Since the program for each Sunday concert is finalized at our rehearsal on Monday evening, we generally post the week's update sometime on Tuesday.  Unfortunately, if you are viewing this page on a summer Monday, what follows will undoubtedly be the information for YESTERDAY'S concert.

Carmen has chosen the following selections all by Percy Grainer:  Australian Up-Country Tune, arranged by Glenn Cliffe Bainum; Country Gardens; Ye Banks and Braes O' Bonnie Doon; Two Grainger Melodies transcribed by Joseph Kreines including Six Dukes Went A-fishin' and Early One Morning; Irish Tune from County Derry; "Shepherd's Hey" English Morris Dance; and "Lads of Wamphray" March.  The selections "not by Grainger" will include Selections from Grease arranged by John Higgins including Grease, Summer Nights, We Go Together, Alone at the Drive-in Movie, and You're the One that I Want; Seventy Six Trombones from the musical "The Music Man" by Meredith Willson, arranged by Leroy Anderson (this is a very clever arrangement with quotes from many famous marches); Highlights from My Fair Lady by Frederick Lowe, arranged by C. Paul Herfurth including On the Street Where You Live, I Could Have Danced All Night, I'm Gettin' Married In the Morning, and I've Grown Accustomed to Her Face; and our traditional closing march, The Stars and Stripes Forever by John Philip Sousa.

Our July 17th concert will feature Carmen Borchardt as conductor.  Carmen has been the band director at James Madison Middle School in Burlington for the past three years.  Because of the recent fire which destroyed Horace Mann Middle School and the subsequent reassignment of the music staff of the middle schools in Burlington, she will become the director at Oak Street Middle School in the fall.  Carmen regularly plays bassoon with the band as well as in the Southeast Iowa Symphony.  She is a talented vocalist as well and was our featured vocal soloist on last week's concert.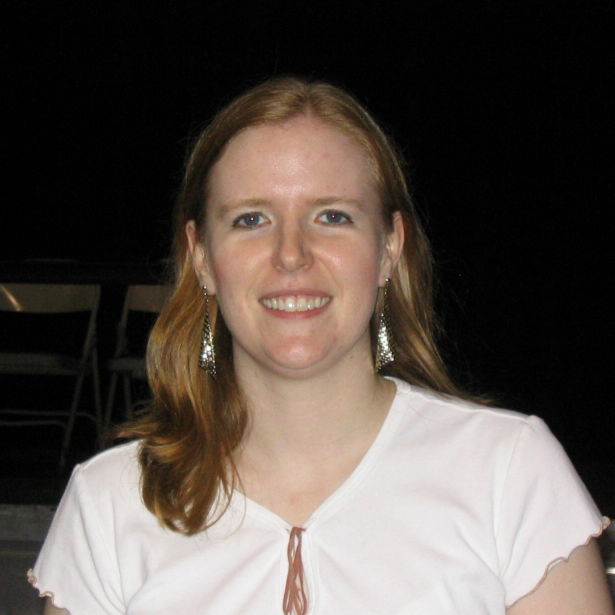 Many of our conductors choose "themes" for their programming.  Carmen humorously tells us that her theme for this concert is "music by Grainger and not by Grainger."  The Grainger to whom she refers is Percy Aldridge Grainger, a prolific composer of music for bands, a gifted pianist and perhaps, one of the music world's most eccentric individuals.

Grainger, born in Australia in 1882, became an American citizen in 1914.  He was an immensely talented pianist (he studied with and was befriended by Grieg) and developed a passion for the collection of folk music.  He traveled extensively with an early recording machine, capturing authentic performances of folk music.  Much of his fame rests on his creative settings of this music though he composed much original music as well.  Biographers characterize Grainger as having been energetic to such an extent that many didn't take him seriously, perceiving his energy as "clownish."

A southeast Iowa "connection" to Grainger serves to illustrate his eccentricity:  He was a soloist with the Southeast Iowa Symphony in the 1950's.  According to the tale, he arrived in Burlington as a hobo, having "hopped a freight" to get here.  He is said to have unrolled his tuxedo for the concert and, following what was by all accounts an electrifying performance, departed the same way he came.

Eccentricities aside, Grainger has achieved universal acclaim in the band world.  Though he composed for various musical combinations (including what was known as a "free music machine" which could be considered a forerunner of the modern electronic synthesizer) his medium of choice was the wind band.  His compositions are considered masterpieces and are revered by band musicians and their audiences worldwide.