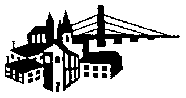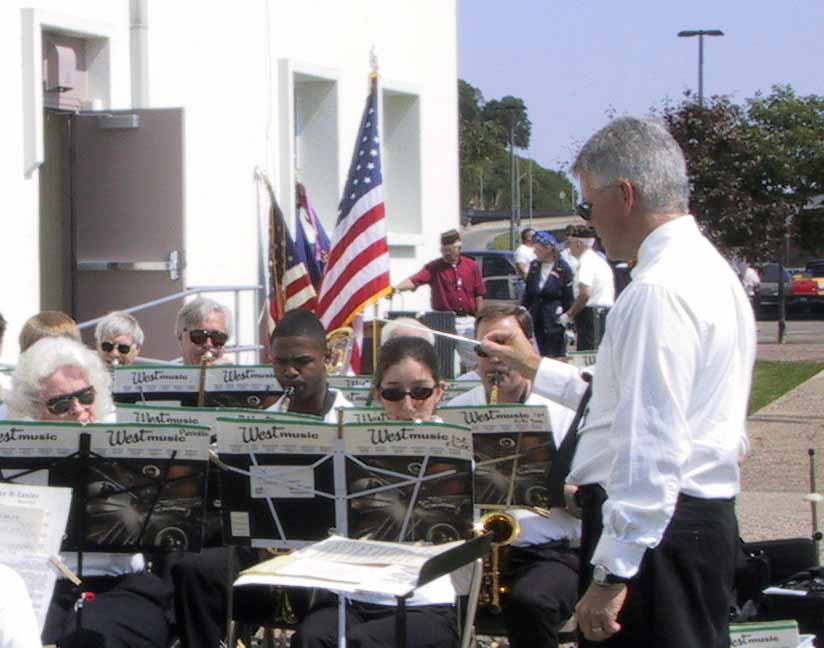 The Burlington Municipal Band "season" actually begins with the Memorial Day Service, last year once again held outside Memorial Auditorium.  (see photo at right, with Mark Eveleth conducting the band)

This Week's Alternate Concert

August 15, 2004


Note from the webmaster:  We update this web site at least once a week during our summer concert season.  Since the program for each Sunday concert is finalized at our rehearsal on Monday evening, we generally post the week's update sometime on Tuesday.  Unfortunately, if you are viewing this page on a summer Monday, what follows will undoubtedly be the information for YESTERDAY'S concert.

The music for the South Hill Brass concert will be chosen from the following:

Belgian March by Scotson Clark, arranged by Clifton Williams

Centone No. II, Part I (Overture) by Johann Joseph Fux

Jazz Etude by Don Haddad

Blue Skies and Steppin' Out With My Baby by Irving Berlin

Quintet in B Minor, Third Movement by Victor Ewald

Toreador Song from Carmen by Georges Bizet

Lassus Trombone by Henry Filmore

"This Old Man" -- March by Robert Nagel

Gay 90's Medley by Bill Holcombe, including In the Good Old Summertime, Bicycle Built For Two, Little Annie Rooney, The Bowery, The Sidewalks of New York, My Wild Irish Rose, After The Ball, and The Band Played On.

South Hill Brass performances also generally include some "hits" from the first half of the twentieth century, including perhaps:

Don't Sit Under The Apple Tree

Sing, Sing, Sing

Washington and Lee Swing

Five Foot Two, Eyes of Blue

Whispering

I'm An Old Cowhand (From The Rio Grande)

... or a few others.

The South Hill Brass will probably NOT end the concert with The Stars and Stripes Forever by John Philip Sousa.  This is NOT a Burlington Municipal Band concert.  Hope to see you there!

"Just for fun" is a good description of the South Hill Brass!  Good friends who enjoy playing their instruments, they take their name from the cause which prompted their first get-together: the renovation of South Hill Park and the "Top 'O the Town Festival" which promotes that cause.  For a more thorough and (thoroughly entertaining) investigation of the South Hill Brass we suggest a visit to their web site. 
http://shb.homestead.com
.  It will be silly.  Don't say we didn't warn you!
Although the band's season has come to an end, several members of the band just can't bring themselves to stop playing concerts "cold turkey."  They are the members of the South Hill Brass: Mark Eveleth and Tom Bell, trumpets; Libby Snipes, horn; Jim Priebe, trombone; and Arnie Anderson, tuba.  They will play one last "just for fun" concert at the regular band concert time and place: 7:30 P.M. at the Crapo Park band shell.