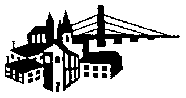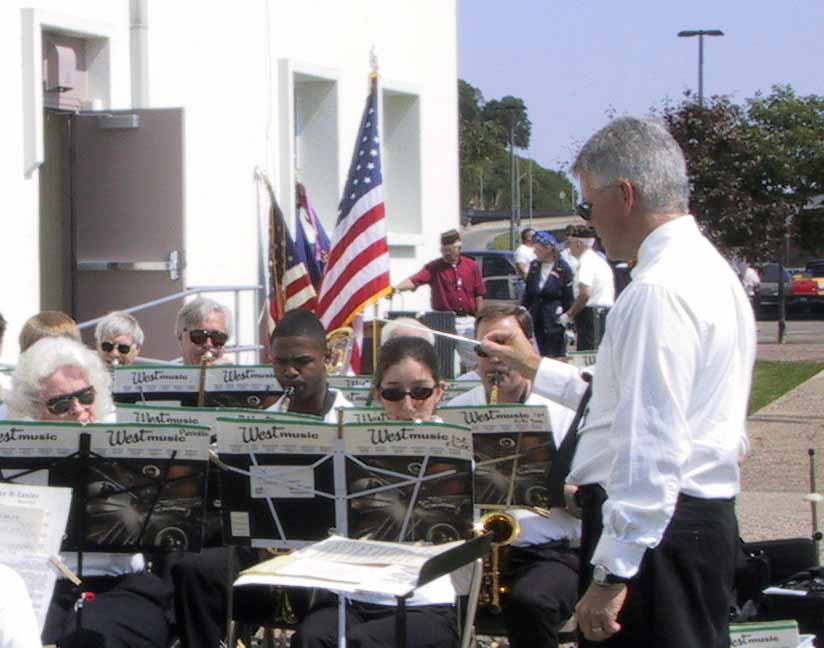 The Burlington Municipal Band "season" actually begins with the Memorial Day Service, last year once again held outside Memorial Auditorium.  (see photo at right, with Mark Eveleth conducting the band)

The band members enjoyed seeing all our friends at the season opener "Teddy Bear's Picnic" concert.  Concertgoers enjoyed perfect weather and the annual "Teddy Bear's Parade."  If you have not already done so we suggest that you view our
photo gallery
elsewhere on this site which features some photos taken at the concert.
This Week's Concert

June 13, 2004


Our Conductor for the June 13 concert will be Carmen Borchardt, band director at James Madison Middle School in Burlington.  Carmen regularly plays the bassoon in the band and is principal bassoonist of the Southeast Iowa Symphony Orchestra and the Southeast Iowa Band.

Note from the webmaster:  We update this web site at least once a week during our summer concert season.  Since the program for each Sunday concert is finalized at our rehearsal on Monday evening, we generally post the week's update sometime on Tuesday.  Unfortunately, if you are viewing this page on a summer Monday, what follows will undoubtedly be the information for YESTERDAY'S concert.

Carmen tells us that there is no particular theme underlying her chosen selections.  Diverse in style and era of composition, they promise to provide an entertaining concert.  The selections to be performed are:  Gershwin Classics arranged by Michael Sweeney, including Strike Up the Band, Summertime, and Rhapsody in Blue; First Suite in E Flat by Gustav Holst in three movements: 1. Chaconne  2. Intermezzo  3. March;  Encanto by Robert W. Smith; Valdres March by Johannes Hanssen, arranged by Glenn Cliffe Bainum; Paris and Helena Overture by Christoph Willibald Gluck, arranged by Clifford Barnes; Selections from Les Miserables by Claude-Michel Schonberg arranged by Warren Barker including At the End of the Day, I Dreamed a Dream, Master of the House, On My Own and Do You Hear the People Sing?; Triolog by Jared Spears; The Silver Quill by Dale Harpham and Sammy Nestico; Selections from CHICAGO  including And All that Jazz, Cell Block Tango, Roxie, and We Both Reached for the Gun; and our traditional closing march, The Stars and Stripes Forever  by John Philip Sousa.