The Burlington Municipal Band plays a one hour concert each week during the summer.  Most of our concerts take place at the band shell in beautiful Crapo Park, overlooking the Mississippi River.  While the band concerts begin at 7:30 PM, there is occasionally other entertainment preceding the concert, and families are encouraged to come early to enjoy the fine summer evening in the park.


Burlington, Iowa

Quality of Life

Burlington Municipal Band


Occasionally inclement weather forces the cancellation of our concerts.  News of concert cancellations is broadcast on a number of local radio stations.  New for 2001, concert cancellations will also be posted here on this web site.




We are interested in finding additional photos of the band or band members which have historic or human interest value to include on this web page. If you have such a photo or photos, and would be willing to share them, please contact Jim Priebe at 752-7305. You will, of course, get the photo back unharmed, and we will gladly credit our source.

Each year, the band has openings for a few musicians. If you are interested in becoming a member of the Burlington Municipal Band, contact Mark Eveleth by telephone at (319) 753-6900 or by e-mail at evelethm@home.com.

The Burlington (Iowa) Municipal Band is a community concert band which has served and enriched the life of this city for seventy years. The band's first concert was presented in Crapo Park in May of 1927 after the citizens of Burlington had expressed the desire that such a band be formed. The band's roots extend back to the nineteenth century since it was formed through the combining of the existing Orchard City Band and the privately operated Fischer's Band under the leadership of J. Henri Fischer, a prominent musician of the era.

The band today enjoys a membership from a wide variety of backgrounds. The band contains homemakers, physicians, music teachers, business men and women, ministers, retired people, college students, and a few outstanding high school musicians. All share the common enjoyment of playing their instruments and providing the community with a wholesome family activity.

With continued support from the City of Burlington, and with additional corporate support from Midwest Federal Savings and Loan, the Municipal Band continues to perform free Sunday evening concerts in Crapo Park during the summer months. These concerts are presented from 7:30 until 8:30 P.M. at the Crapo Park Bandshell, located on Grandview Drive within the park. This site provides concert goers a magnificent view of the Mississippi River and the Illinois farmlands spread below, and a wide lawn where listeners can choose to sit on park benches provided near the bandshell, or bring their own lawn chairs or blankets, perhaps to sit near the illuminated Foehlinger Fountain. The concerts are well attended by people of all ages, and many visitors to Burlington make it a point to return each summer to hear at least one concert.


This website is now maintained by members of the Burlington Municipal Band.

We thank the staff at the Burlington Public Library for the original site design.

Questions and/or comments can be directed to -- webmaster@muniband.org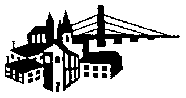 This web site is also available in a
LARGE PRINT
version.
Our Final Concert of the Season

August 12, 2001

Each director has chosen music for your enjoyment.  Their selections for the concert will be chosen from among the following:  Sue Kristensen will conduct Marcho Poco by Donald I. Moore as well as our closing march The Stars and Stripes Forever by Sousa.  Ron Coberley, New London High School director will conduct Emperata Overture by Claude T. Smith.  Oak Street Middle School director Marcia Korb will conduct A Trumpeter's Lullaby by Leroy Anderson, featuring BHS director Derrick Murphy as trumpet soloist.   Marcia will also conduct Tiger Quickstep, an adaptation of a Civil War vintage saxhorn band arrangement done by Kenton Scott.  Jim Priebe, band director of James Madison Middle School, will conduct Bugler's Holiday by Leroy Anderson which will feature trumpeters Derrick Murphy, Mark Eveleth, and Jennifer Hexom.  Mark is band director of West Burlington Arnold High School, and Jennifer is band director of Union High School.  Jim will also conduct Them Basses by G.H. Huffine which features the tuba section, made up of Notre Dame director Arnold Rabe, New London Junior High director Arnie Anderson, and BHS student David Rappenecker.  If time permits Jim will conduct Ashokan Farewell by Jay Ungar, arranged by Calvin Custer.  West Burlington director Mark Eveleth will conduct Horizons by Elliot Del Borgo and Selections from "The Wiz" by Charlie Smalls, arranged by Bob Lowden.  Union High School Director Jennifer Hexom will conduct a contemporary arrangement of Amazing Grace by Paul Holmes and Annie Get Your Gun by Irving Berlin, arranged for band by Erik Leidzen.

It seems impossible that another season is coming to a close.  As always, we have enjoyed our participation in the band and we hope that you have had equal enjoyment.   Our final concert will be a "round robin" concert, conducted by several of the directors who are members of the band.

Since this is the end of our season we would like to thank some of the many individuals and organizations which contribute to the success of the band.   We hope that any whose names are not included will forgive us for our omission.

Thanks to all of the media organizations which keep the public informed about our concerts:  The Hawk Eye,  the Des Moines County News and radio stations KBUR, KGRS, KBKB, KKMI, KDMG AND KCPS.

The City of Burlington and Midwest Federal Savings and Loan must be the first on this list because they provide the financial support without which the band could not exist.

A number of city employees provide invaluable assistance.  They include the Parks Department employees who maintain the area surrounding the band shell and the band shell itself, Don Fitting and the Water Department for kindly allowing us to use their trucks each week to haul our equipment, Diane and Paula in the Finance Department at City Hall, and the employees at Memorial Auditorium who are always helpful.

We hope that you will take the opportunity to support live music provided by many musical organizations in the Burlington Area during the fall, winter and spring months.  Members of the Municipal Band participate in or direct many of these groups, and we would love to see you.  These groups include the school bands, orchestras and choirs in Burlington and surrounding communities as well as the Southeast Iowa Symphony, Southeast Iowa Band, Bel Canto Chorale, South Hill Brass, Southeast Iowa Brass Quintet, and the Southeast Iowa Woodwind Quintet. You may often find band members directing or participating in the pit bands of the Players Workshop and/or area school musical productions as well.

Many band members work behind the scenes as well and deserve thanks.  They include Mark Eveleth who works to keep the media informed; Dave Scott who provides his truck and his labor to haul percussion equipment and sees that we have the proper number of percussionists needed to play each week's music selections and who sets up our PA system and records our concerts; Pete Korb, Bryon and Brandon Upton, Matt Maulsby, Mark Scott, Ben Fitting and Gerry Runyon who  load and carry our equipment and set up and put away the chairs for each concert; Jennifer Hexom who handles the personnel and payroll duties, and her daughter Heidi who (while not a band member) takes care of the band's music library duties each week; and Tom Bell who handles the traffic control barricades before and after the concerts and who provides the technical expertise necessary to maintain this web page [AND Jim Priebe who writes 90% of the text on this web site -- but not this particular text].

Most of all we wish to thank all of the loyal people who make up our audience.  It is extremely gratifying to the members of the band that our audience numbers continue to grow.  We are particularly pleased that people of all ages seem to enjoy our music.  We want to express our sincere appreciation to all who have attended our concerts and we look forward to seeing you again during the summer of 2002.

The writer would also like to recommend a group for jazz buffs who happen to be in the Quincy, Illinois area.  A big band jazz organization known as the "Big River Swing Machine" presents an 8:00 P.M. performance the first Wednesday of each month at the Holiday Inn in Quincy.  The group includes many of the best jazz musicians in the area.