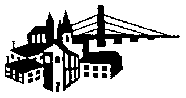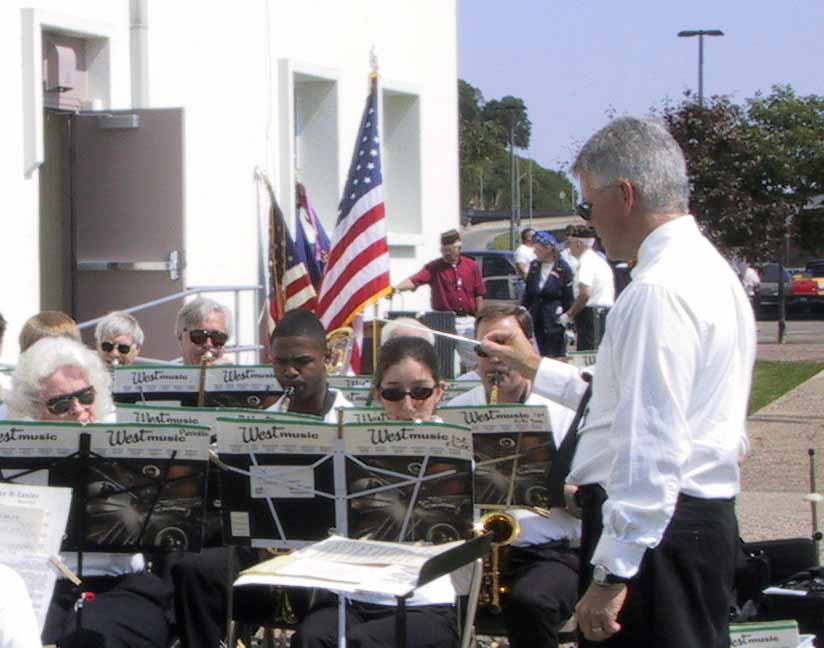 The Burlington Municipal Band "season" actually begins with the Memorial Day Service, last year once again held outside Memorial Auditorium.  (see photo at right, with Mark Eveleth conducting the band)

The conductor for our July 11 concert will be Mike Lachnitt.  Mike plays clarinet and sometimes saxophone in our band and various other groups including the Southeast Iowa Band, ClasSax, and Herbie's Little German Band (founded by Mike's father, Herb).  Mike enjoys a unique position in our band;  in addition to being the former full-time director, he is both the son of a former band member (Herb), and father of a current band member (Mike's son Gerhardt plays in our trumpet section).

This Week's Concert

July 11, 2004


A highlight of the concert will be the appearance of vocalist Gloria DeVilbiss.  Gloria has sung with the band many times -- though far too rarely in recent years -- and is a real crowd-pleaser.  The band will accompany Gloria as she sings selections from The Sound of Music by Rodgers and Hammerstein, arranged by Robert Russell Bennett.

Note from the webmaster:  We update this web site at least once a week during our summer concert season.  Since the program for each Sunday concert is finalized at our rehearsal on Monday evening, we generally post the week's update sometime on Tuesday.  Unfortunately, if you are viewing this page on a summer Monday, what follows will undoubtedly be the information for YESTERDAY'S concert.

The rest of the concert will include Chicago Tribune March by W.P. Chambers;  Around the World by Victor Young, arranged by Alfred Reed;  Carmen Suite by Georges Bizet, arranged by Jack Bullock;  Chattanooga Choo Choo by Mack Gordon and Harry Warren, arranged by Paul Yoder;  El Caballero Spanish March by J. Olivadoti;  Feuerfest! Fire Festival Polka by Josef Strauss, transcribed by Terry Vosbein;  Billboard March by John Klohr;  South American Way from "Streets of Paris" by Jimmy McHugh, transcribed by William Teague;  Rocky and Bullwinkle Strike Again by Fred Steiner, arranged by John Higgins;  Jersey Bounce by Bobby Plater, Tiny Bradshaw, and Edward Johnson;  and  our traditional closing march, The Stars and Stripes Forever  by John Philip Sousa.