The Burlington Municipal Band plays a one hour concert each week during the summer.  Most of our concerts take place at the band shell in beautiful Crapo Park, overlooking the Mississippi River.  While the band concerts begin at 7:30 PM, there is occasionally other entertainment preceding the concert, and families are encouraged to come early to enjoy the fine summer evening in the park.


Burlington, Iowa

Quality of Life

Burlington Municipal Band


Occasionally inclement weather forces the cancellation of our concerts.  News of concert cancellations is broadcast on a number of local radio stations, and many of our concerts are broadcast live over KBUR at 1490 on your AM dial.  New for 2001, concert cancellations will also be posted here on this web site.




We are interested in finding additional photos of the band or band members which have historic or human interest value to include on this web page. If you have such a photo or photos, and would be willing to share them, please contact Jim Priebe at 752-7305. You will, of course, get the photo back unharmed, and we will gladly credit our source.

Each year, the band has openings for a few musicians. If you are interested in becoming a member of the Burlington Municipal Band, contact Mark Eveleth by telephone at (319) 753-6900 or by e-mail at evelethm@home.com.

The Burlington (Iowa) Municipal Band is a community concert band which has served and enriched the life of this city for seventy years. The band's first concert was presented in Crapo Park in May of 1927 after the citizens of Burlington had expressed the desire that such a band be formed. The band's roots extend back to the nineteenth century since it was formed through the combining of the existing Orchard City Band and the privately operated Fischer's Band under the leadership of J. Henri Fischer, a prominent musician of the era.

The band today enjoys a membership from a wide variety of backgrounds. The band contains homemakers, physicians, music teachers, business men and women, ministers, retired people, college students, and a few outstanding high school musicians. All share the common enjoyment of playing their instruments and providing the community with a wholesome family activity.

With continued support from the City of Burlington, and with additional corporate support from Midwest Federal Savings and Loan, the Municipal Band continues to perform free Sunday evening concerts in Crapo Park during the summer months. These concerts are presented from 7:30 until 8:30 P.M. at the Crapo Park Bandshell, located on Grandview Drive within the park. This site provides concert goers a magnificent view of the Mississippi River and the Illinois farmlands spread below, and a wide lawn where listeners can choose to sit on park benches provided near the bandshell, or bring their own lawn chairs or blankets, perhaps to sit near the illuminated Foehlinger Fountain. The concerts are well attended by people of all ages, and many visitors to Burlington make it a point to return each summer to hear at least one concert. Again this season the concerts are being broadcast live by radio station KBUR AM 1490.


This website is now maintained by members of the Burlington Municipal Band.

We thank the staff at the Burlington Public Library for the original site design.

Questions and/or comments can be directed to -- webmaster@muniband.org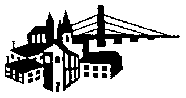 As always, our concerts will be on Sundays from 7:30 to 8:30 P.M.  The first concert of the season will be Sunday June 10 and will be conducted by Arnie Anderson, New London Jr. High School director who regularly plays tuba in the band.  Arnie has chosen a varied program which should appeal to all ages.  Selections will be chosen from among the following:  Feelin' Groovy by Paul Simon, arranged by Warrington;  On the Mall March by Goldman, arranged by Lake;  Iowa Band Law March by Karl King;  Wood County Celebration by John O'Reilly;  Fiesta from Symphonic Dance No. 3 by Clifton Williams; Fantasy on American Sailing Songs by Claire Grundman;  The Great River by Michael Story;  The Portals and Children's Gallery from Scenes at the Louvre by Norman Dello Joio;  Take Me Out to the Ball Game arranged by Higgins;  Barnum and Bailey's Favorite March by Karl King;  A Day at the Zoo by James Curnow; and Colonel Bogey March by Kenneth Alford.

Members of the band are looking forward to our concert season.  We hope that you will join us regularly.  We'd love for you to make "summer Sunday evenings at the bandshell" a family tradition.  See you Sunday!

We also hope that you will continue to support live musical performances throughout the year by attending and supporting the music departments of our area school systems, the Southeast Iowa Band, the Southeast Iowa Symphony and other local musical organizations.

This web site is also available in a
LARGE PRINT
version.
This Week's Concert

June 10, 2001